1. General Information
- Your character name: Healidin
- Your class: Paladin, Holy
- Your gear and talent build (the Blizzard Armory)http://eu.wowarmory.com/search.xml?searchQuery=Healidin&searchType=all (heard there could be some problems with a direct link if im not a member or something, hope this will do fine

- List your titles you think are relevant to us: Hmmmm, not really. "The patient" tough, I do loads of heroics fuck yeah
- What do you think needs most improvement on your character. Most of my gear currently need a big improvement, atleast where I still got blue gems. Got some blue gems bcuz I never decided which spec to go, so I got like half decent gear in all 3. And at that point I didnt have the cash to maximize my stats. To point out specificly what I may need is increased haste for sure. I think I might change most of my sockets to haste gems when it improve
- Are you able to understand and speak in english over ventrilo? I got a working microphone and I understand English.
- Post a picture of your UI in a raid.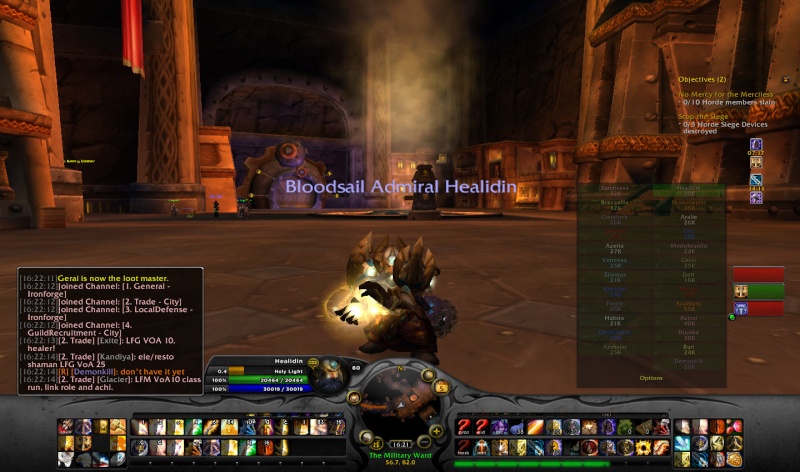 - Post a picture of your performance in raid ( recount ) or on the heroic training dummy lasting more that 5 seconds. I didn't take a picture of my performance in raid yet. But ill do if neccesary, didnt do any raids this week yet as >>>IF<<< I get accepted you might want my beacon's, yeah

2. Playing times & Raiding times
- Describe what you do in an average online week.
- When are you online and what days are absolutely not possible?
- What are your ideal raiding times?
-- Monday: 18:00-24:00
-- Tuesday: 18:00-24:00
-- Wednesday:18:00-24:00
-- Thursday:18:00-24:00
-- Friday: depends
-- Saturday: depends
-- Sunday: 18:00-24:00
3. Former guilds, experiences & your motivations to join Ordo Draconis
- What were your previous guilds, and why did you leave them? The only serious raiding guild I ever had was with my warlock in TBC, never really raided to progress with a guild after that. I got kicked because I stopped playing
- What are your overall raiding experiences so far? Cleared naxx 10/25, toc 10/25 clear (never did hc), ICC 10/25 4/12, Ulduar 10 - all up to hodir, and about the same in 25 man I think
- What are your ambitions and motivations to join Ordo Draconis as a raid member? Im bored of hanging around in IF doin nothing. Also I have a hard time joining many raids because of my lack of gear. Anyhow I think when you get to see me in action you wont be disappointed, as im quite confident on how I perform in raids. Of course one of the main reason's is that I want to see the content and raid with a nice guild (which I heard you guys are, including some screaming but thats fine)
- Why should you be accepted in the guild ? I'm a nice guy, and don't forget im a handsome blonde from Norwegian - that alone is enough to join any guild

Don't forget my motivations and ambitions
4. Personal information
- Your first name: Kenneth Kiltstad
- Your age: 17
- Your country: Norway
- More information about yourself (optional) I have no life
5. Varia
- modem or cable? cable
- blue or red? black
- active or passive? active
- black or brown? black again
- ventrilo or teamspeak? ventrilo
- How much is 10110110: It is for sure many many 1's and 0's